Retire Early and Happy
Without Wall Street Risk
Maximize Retirement Income,
Minimize Investment Risk,
Reduce/Eliminate Taxes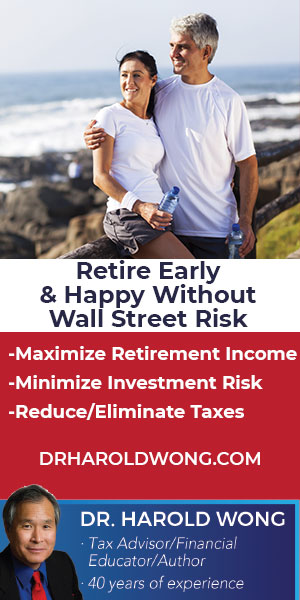 The goal of all Americans, particularly Seniors and Baby Boomers, is to Maximize Retirement Income, Minimize Investment Risk, and Reduce or Eliminate Taxes. Dr. Wong helps these two groups by using unbiased academic research to cut through the confusion in the financial world.
In order to make the best financial decision for your family it is crucial that you see the actual research instead of listening to Wall Street hype.
Charles Berry
"I had never seen a presentation covering such seemingly disparate topics as: (a) defined benefit pension plans; (b) newly-expanded Section 179 expensing for business equipment, and (c) 30% solar energy investment credits. He ... suggested tax structures that could be appropriate for both aggressive (and not-so-aggressive) persons."
Attorney Charles R. Berry
Clark Hill Professional Law Corporation
Zach Fuller
"Your talk on Secret Advanced Tax Strategies was one of the most interesting topics covered and we received great feedback from all who attended..."
Zach Fuller
Head of Investments, Caliber Companies
Bob Clark
"Your discussion makes use of common sense approaches to managing our retirement funds, which hopefully will allow normal everyday people to survive any US economic fallout from the election ..."
Bob Clark
President of AZ Public Service/Pinnacle West Retirees' Association
Michele M. Smith
"Dr. Wong has a wealth of knowledge on many aspects of economics, including how to maximize one's retirement income and how to minimize investment risks ..."
Michele M. Smith
President, Phoenix Chapter of the Arizona Education Association Retired
To see how I can help you acheive your goals, call me today at